BYU 35 – 10 UConn – Taysom has 5 TDs
29 Friday Aug 2014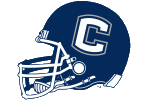 BYU's Taysom Hill did not repeat last years disappointing start to the season. In this year's opener, he threw for three touchdowns and 308 yards. Zero interceptions. If that was all he accomplished, it would be considered a banner night. But Taysom also ran for 97 yards and 2 touchdowns.
Yes, that is right, Quarterback U has a quarterback! Or do they? BYU sputtered in the second half, in part because Taysom missed a couple throws. He had three incompletions in the first half, but two were smart throw-aways. He missed five passes in the second half, throwing one into the turf and missing his receiver on another. BYU aided UConn's defense, helping the Huskies limit the Cougars to 7 second half points.
UConn couldn't get much going. There only scores came on BYU turnovers. They capitalized on two fumbles by BYU. The first by Mitch Mathews and the second by Algernon Brown. Give credit to UConn's defense for coming up with those fumbles, however, neither were big hits, which means BYU has some ball security issues to deal with.
If BYU had played a stronger team than UConn, who only won three games last season, the Cougar's penalties alone would have cost them this game. Fifteen penalties for 150 yards (15-150) is not acceptable. No, not even in a first game. Bronco's BYU teams have struggled many years with penalties. This is a team weakness that must be resolved if they expect to compete at an elite level.
BYU's penalties actually helped UConn score off BYU's turnovers. The first Husky touchdown was aided by two BYU penalties. The second score, a field goal, would likely not have occurred as BYU made what might have been a drive-killing sack on QB Chandler Whitmer. But Alani Fua (#5) failed his team after his big sack by pretending to real in a fish–an unsportsman-like move that changed a 3rd and 14 at the BYU 41 to a first and ten from the BYU 26.
UConn almost got a third score with the help of penalties. Again, UConn was stopped by great defense on a 3rd down but an easily avoided late hit on the the Husky QB by #2 Dallin Leavitt cost BYU a 3rd down stop.
UConn's last drive included a big play. Had they scored it would have been their first score with BYU's assistance. But Chandler Whitmer couldn't complete a pass and finish in the red zone.
BYU also missed a 33 yard field goal.
Taysom's five touchdowns hid what was really ugly game one play by the Cougar football team. The same ugly play that cost them in game one last year. If BYU plays a similarly against Texas next week, they'll find their hopes of going undefeated squelched in the second game.
Texas still remembers how BYU ran for 550 yards against them last year, with Taysom running for 260 of them. Under their new coach, Charlie Strong, the Longhorns are going to be hungry for revenge. But this is BYU's biggest chance to make a statement.
BYU played without their starting running back Jamaal Williams. Both their starting corner backs also missed this game. Next week, Williams needs to have a big game to help Taysom. Depth at the corner back position will be necessary for the Cougars to find a way to win in Austin.